What I do
I do company trainings on Design thinking, Lean Six Sigma, Digital transformation skills, Excel
In train English or Czech
I deliver online live trainings for groups and also face-to-face trainings.
My clients are SKODA Auto, Johnson&Johnson, DHL, Roche, PwC and other multinational companies
What people say about me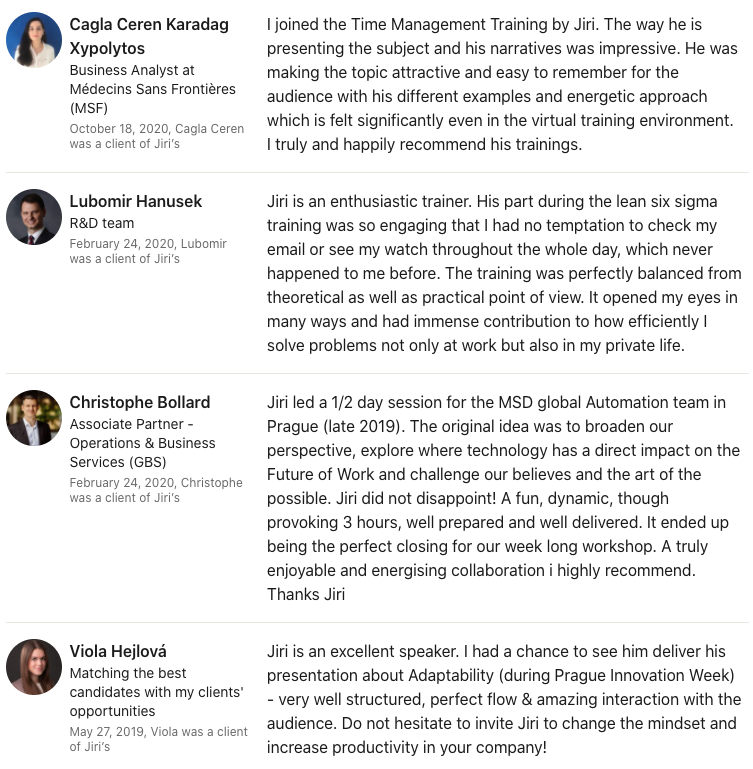 Who I am
What I believe
I believe in a world where everyone will look forward go to work every day. Make great things together there and experience joy and fulfilment. This is why I help people work smarter.
Integrity, Accountability and Justice ar my core values.
What I read
See a list of business books that I recommend on innovation, design thinking, entrepreneurship and Lean
Let's stay in touch
Do you want to talk about something? Lets grab a coffee in Prague or have a call.
My blog articles in English
Here on my blog: English articles
On Medium.com: https://medium.com/@jiribenedikt
Some of my clients
Cover photo by Igor Sovicek