Learn how to create new products and services and how to design great customer experience. I will build and deliver a 2-day tailor-made training session or facilitate a design workshop or design sprint. You will practice using tools like empathic interviews, customer experience mapping, brainwriting or prototyping.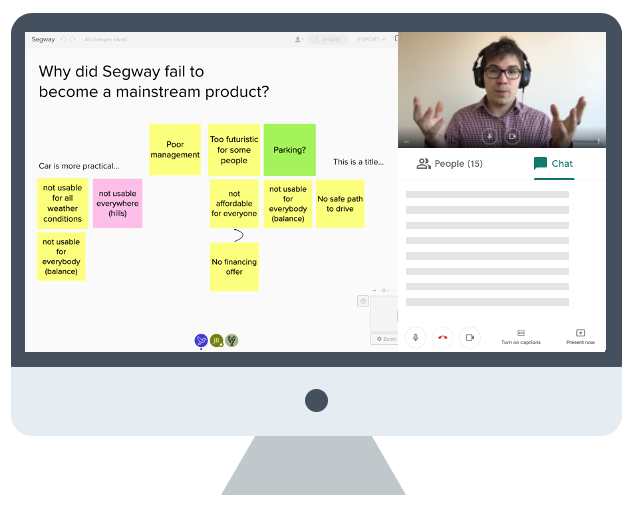 Benefits of online group trainings
Live training with an instructor (me)s– I will lead you through the workshop, ready to answer questions, give valuable feedback or help with your own project.
Practice working in virtual teams – you will learn how to use use digital tools to facilitate discussion, ideation and collaboration. Be ready and adapt to the new world.
Real-life case study – you will work on a real design challenge from your company or real-life case study. By the end of the workshop, you will have made a tested, tangible solution.
Recorded sessions – get back to any part of the live sessions to review and study. You will not get that in classroom trainings
How I do it:
Video on my english Youtube channel BenediktX
How I keep training engagement high
A look into the backstage
A typical design thinking training /workshop schedule:
Dedicated full days: experience shows that keeping full days for the workshop builds focus, immersion and great learning experience, even in online environment.
Work style witching to keep high energy: Every day there are blocks of interactive videoconferences, individual work and teamwork. The training sessions take 60 to 90 minutes to adopt to the natural cycle of focus.
Videoconference: Interactive session with the instructor. Every 10 minutes there is a short assignment: Brainstorming, video, exercise or a task.
Teamwork: We will split into smaller teams of 4 to 6 people and work in parallel on sub-parts of the design challenge. We use digital tools for virtual whiteboards, brainwriting, polling. There are videoconference rooms for each team.
Individual work: At Google they say that the data show that the best creative results are achieved when people get uninterrupted time to think and focus. That is why we use this style of work as well.
Lets make something online together!
Why me as a trainer?
I spend 3 years as a CEO of an investor-backed startup. We did a lot of design thinking projects there.
I have been working 10 years as a management consultant. I know the environment and needs of large corporations.
I did design thinking workshops/trainings for international companies, shared service centres. (See my list of clients) I did it for teams from product development, HR, consulting, finance, procurement, IT and others.
Because I believe that the only way how to improve is to experience and try things. This is how I create and lead my trainings.
I train both in English and Czech.
I am based in Prague, but I deliver both online trainings and classroom trainings globally.
Are you considering a Design thinking training?
Let's connect. I will help you with planning and amazing, memorable and effective Design thinking training experience.
I can walk you trough the process, the training curriculum and help you understand how I work and what value are you getting.
Contact me: